What is a Grid Tied Inverter ?
A Grid Tie Inverter or a Grid-Tied Inverter is a new technology inverter which gets either wired directly to your house grid (by a certified electrician only) usually they are larger capacity units and there are some smaller units which get plugged into a power point (power outlet) DIY.
Grid Tied Power Inverter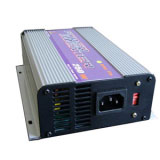 How does a Grid Tied Inverter work ?
The Grid Tie Inverter reads and analyses your grid/power point current and when connected to a battery, battery bank, solar panel or wind turbine as an input, it takes the power from this sources, transforms it perfectly into the type of power it has read and analyzed from your grid/power outlet and exports it to your grid.
If you intend to make your own solar panel power system or a wind turbine system this smaller units are very handy to use, as you don't need to do any wiring to your main power circuit it is just a plug and play unit.
Another great feature is that a grid tie inverter has the capability to turn itself on as soon as there is power coming in and turning itself off when there is none and also, turning itself off when it doesn't read any power in your grid/power point and turning itself on when it does read some power in order to export. This feature is called Islanding protection and was created so if there is a power problem on your street or has been intentionally turned off by the electrical company in order to fix it or do some maintenance, your GTI will stop working so it will not continue to export power to the grid otherwise the electricians can get electrocuted when working with the main street grid unit knowing that there is no power on the lines as they turned it off but your GTI was still exporting it.
GTI